The Reunion/Bearsville '98 EDA Gathering
EDA fun scheduled for Friday July 17th thru Sunday July 19th
If you can give a ride to EDAs who really, really don't wanna walk to Bearsville, please visit the "Angel Needs A Ride" page to offer your services!!! :-)
If you plan on indoor lodging (wimpy ol' me always does), you may wish to show up on Friday the 17th, as many of the lodges and B&B's in the immediate area require a two night minimum on weekends.

Last updated on July 14th, 1998
Check back often for updates & more info
---
| The Latest News | | The Main Page | Directions, Maps, Cyber-Trip Planners, Camping and Lodging |
| If Ya Wanna Go & Pay Hommage At The Site Of JewelStock, Find This Place |
---

. . .What is this event anyway,
another Woodstock hippie commune?
Nope, not unless we make it one :)
Basically, it's as simple as this. Many folks believe the Jewel list was really "spiritually" born when Hiranya first announced JewelStock in early June 1996. (Hiranya was then the lists' main contact with Jewel and her management, as she worked for Jewel in the office)
The JewelStock event itself was quite special, and many friendships were formed those three days in Woodstock/Bearsville in July 1996. Since then many "EDA gatherings" have happened, arguably due to JewelStock, most occuring without Jewel anywhere near the place.
Last year as the first anniversary of JewelStock rolled around, the idea for a major reunion/campout/EDA gathering in the Woodstock/Bearsville area surfaced, thus Bearsville 97 was born.
It was a rousing success, as over 50 people attended at various times of the three day campout. This time musical entertainment was not part of the event, and it wasn't needed, as list members pretty much:
just hung out
played ball
watched Erica continually fall down playing ball
LOLed at/with Jon Reade in the funniest baseball/softball skits since "Who's On First?" (it certainly wasn't Erica!!)
got weirded out at the psychic fair
bought some New Jersey rocks at the psychic fair
did some fishing
did some story telling
did some high-tech bacon grilling ala Chef Akira
learned some high-tech fire making techniques from Lauren Bond-fire
some shared their poetry
some shared their angelfood
many marveled at all the comet pictures given to all by Mykle Mariette
many raided the munchie supply depot in the bed of Crunch's truck
many enjoyed EDA Mommy's (Tammy) Mexican breakfasts (I myself missed out)
all wore the love beads given to them by Stephanie Karto-blah-blah-blah
all (but Harris) ventured into Woodstock
all (but Harris) hoped the downtown Woodstock whacko blowing in his 10-foot musical stick while noisily banging on the stick three times every eleven seconds would be taken home by the men in the white coats so he could watch The People's Court with the Rainman and share his 8 fish sticks
all likely forgot WHO it was that had the unassisted triple play in the softball game. Was it? :

Eric Montas?
Tegan Goodwin?
Jared Jacobus?
Tom Proven?
Kelly Magee?
!! the answer is at the bottom of this page !!

all but two stuffed Akira's car full of balloons
all took in the beautiful Catskill mountains
and pretty much had a good ol' nature filled weekend.
Sooooooooooo, this year we plan on doing it all again, AND we plan on outfitting Erica with a full set of body padding just in case this years' rockballfield has more boulders in it than last years did!

OK!! I wanna go! I wanna go! Who do I write? Do I need 60's clothing & love beads and tunes by the Doors, Creedence Clearwater Revival and Jefferson Airplane and far out groovy things like that?
For camping and general Bearsville '98 information contact Tammy "Flower Girl" Campbell at BRSVL98@aol.com
For carpooling info, contact Tom Miles at Anglride98@aol.com
For 60's clothing & love beads & far out groovy things like that, bring $$. Woodstock is chock full of shops that have this stuff. You can bring any tunes you want, but tradeable angelfood is always a must at EDA gatherings :)

..Woodstock Links

.
| The Latest News | | The Main Page |
| Directions, Maps, Cyber-Trip Planners, Camping and Lodging |
| If Ya Wanna Go & Pay Hommage At The Site Of JewelStock, Find This Place |

---
The Woodstock logo is not by me, originally designed by the operator of the Woodstock Institue of Technology
The Jewelstock logo was blatantly stolen from Dennis Harris, and there ain't one stinkin' damn thing he can do about it....not that he'd try anyway. Why? Because he's yella, that's why ;-)
This page was designed and recklessly thrown on the internet by Mike Connell. You can direct kudos, flames and/or threatening letters to me at..DuckSoup@quackquack.net

..The triple play maker? It was Tom "Twinkle Toes" Proven!..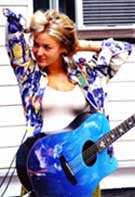 Jewel at the WDST Backyard Barbeque, July 16th, 1996 - Woodstock NY