Binghamton Press & Sun-Bulletin newspaper online article from the day before the game is at the bottom of this page. click here
Hopefully I can soon have the Oneonta paper article on the game here too (they cover all the BGA games)
---
Forks gets defensive, batters B-G/A
Victory seals division title
CHENANGO FORKS -- Bainbridge/Guilford-Afton, Roy Deyo feels your pain.

As a senior halfback for the Chenango Forks High football team, Deyo practices five days a week against the toughest defense in Division IV of the Section 4 Conference. He has the bumps and bruises to prove it.

And after being shellacked 27-0 Saturday, every member of B-G/A's offense does, too.

"I get beat up all week by these guys," said Deyo, who doled out some punishment of his own by rushing for 103 yards and a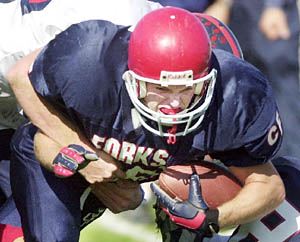 touchdown on 14 carries to help the Blue Devils improve to 7-0, spoil a perfect divisional record for the Bears (3-1, 5-2) and clinch first place in Division IV with one game left in the regular season.
"It's only practice, but I still can't get by any of them," Deyo said. "I'd like to think I make them a little better by giving them the best looks I can all week, but it's a great defense. I love watching these guys from the sideline."
Surely, that's the safest spot to see Forks' ferocious defense, as B-G/A coach Steve Rice surely discovered.
In a newspaper article earlier this week, Rice intimated that the Bears were more physical than the Blue Devils. It was enough to fire up every member of Forks' defense, a unit that needs little incentive to deliver vicious hits.
"They thought they were more physical than we are, but we know we're the best," said junior nose guard Kelsey Jenks, the Blue Devils' defensive catalyst. "We don't like anyone telling us different."
Rice's remarks put Jenks, the latest in a long line of Forks football standouts, in a terrible mood.
His father starred for Chenango Forks before playing at Syracuse University, and his uncle was a member of the Blue Devils before continuing his career at West Point. Both were among the estimated Homecoming crowd of about 600 on Saturday, and they saw Jenks brutally sack B-G/A's Jeremy Wicks on a pivotal third-and-3 deep in Forks territory midway through the second quarter.
It was one of several plays that sapped any possible momentum from the Bears, who trailed 14-0 when Jenks stalled their drive. Jenks' cousin, Jordan, was in the middle of nearly every play, and defensive end Jake Frisch unloaded a similar drive-killing sack on B-G/A's first possession to set the tone for the game.
The Bears mustered 98 yards of total offense in the first half en route to a 21-0 halftime deficit. The beating continued after the break as Forks yielded just 30 more yards.
"We wanted to hit them so hard that they wouldn't want to touch the ball," Jenks said. "I knew we'd win this game because we had the best week of practice we've had all year."
Said Forks coach Kelsey Green: "I like our defense. Our kids would rather play defense than offense, and I think it shows. We certainly like [the Jenks'] genes. I wish they had more sons."
Forks' balanced, ball-control attack pounded away at the Bears in the first half, going up the middle, over the right side and around the left for scores.
A 1-yard quarterback keeper by junior Matt Juriga gave Forks a 6-0 lead with 4:10 left in the first quarter. Deyo tacked on a 24-yard touchdown run on a fourth-and-1 play, and Drew Batty burst through the middle of the line for a 30-yard touchdown run before halftime.
Forks opened the second half with a clock-eating, 12-play drive and scored on Jaime Hoover's 4-yard scamper around the left tackle.
"It was a big goal of ours to get the division [title]," Green said. "We get better and better every week, and I hope we're springboarding to even better things."