Post-game articles from the The Binghamton Press & Sun-Bulletin and the Norwich Evening Sun follow next on this page (Norwich article NOT uploaded yet). Both papers also had some preview articles for the game. Those articles are after located here.
Blue Devils hold off determined Tornado
SECTION 4 FOOTBALL PLAYOFFS
BY KEVIN STEVENS
Press & Sun-Bulletin

BINGHAMTON -- While it may not have been vintage Chenango Forks football, the result Friday night was status quo.

The Blue Devils completed a second consecutive unbeaten trek to Section 4's Class B championship, victory No. 10 coming by 28-7 over Norwich in a tussle the likes of which Forks hadn't encountered for a lengthy string of weekends.

But here are the Devils, back where most everyone in the know believed they'd be, embarking on another state title chase.

Next up will be a state quarterfinal against the Section 3 (Syracuse area) champion, either Solvay or Oneida, at 5 p.m. Friday at Union-Endicott.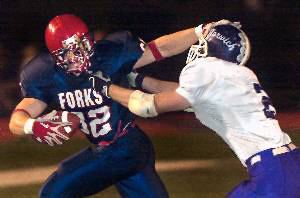 Senior fullback Kelsey Jenks rushed 25 times for 165 yards and three touchdowns, the second of which punctuated Forks' most significant drive of the night midway through the third quarter at Binghamton Alumni Stadium.
"This isn't the end right here, hopefully it's just the beginning," Forks quarterback Matt Juriga said.
"This is just what we wanted. We have a goal to win the state championship," said Jenks, who was part of last season's Class B state runner-up.
Norwich coach John Pluta said, "I think we're pretty good, but they're great."
The Purple Tornado (8-2), Section 4 football's comeback story of the year coming off a winless 2001 season, indeed made a ballgame of it.
The contest began as so many have this year for Forks, with its defense dictating a nothing-happening three-and-out series by Norwich and the offense responding with a six-play, 54-yard drive capped by Jenks crashing over a defender to complete a 3-yard scoring run.
Tim Batty added the PAT kick and it was 7-0 with 3:21 elapsed.
Thereafter, the going got considerably tougher for the Blue Devils, masters of the one-sided win and a team whose reserves had gotten so much playing time week after week.
Forks' second possession ended with a punt, giving Norwich possession at its 12-yard line. From there, the Purple Tornado traveled 78 yards on 16 plays, and faced fourth down and less than a yard.
But the Blue Devils' defense held, stopping Andy Reid for no gain on a running play inside and taking over the football at the 10.
"It defines our character a little bit," Juriga said. "Coming up with a stop like that, fourth-and-inches or whatever it was, it really tells a lot about our team and the maturity we have. We're not going to give up on anything, we're going to keep fighting.
"Inside that 20 is our zone, and everybody knows that."
"That was one of the two turning points in the game," Pluta said, adding that Forks' second half-opening drive was the other.
Forks' offense, plagued on this night by an uncharacteristic number of penalties, rewarded the defense for its efforts by going 90 plays on a mere seven plays. Juriga kept the football outside for a 29-yard gain to the 1-yard line, and sneaked in for a touchdown with 6:35 to play in the second quarter. Batty's kick made it 14-0.
Norwich had gained the Blue Devils' full attention, and Forks took to the locker room for intermission acutely aware this thing was far from decided.
"At halftime, we all knew we weren't playing our best game, and we knew we had to step it up, set the tone early in the second half and things would fall into place from there," Juriga said.
Forks established the tone, alright, setting up shop at its 20-yard line to start the third quarter and piecing together a workmanlike 15-play drive that ate up six minutes and 14 seconds.
All the work was done on the ground, and the largest chunks were gained by Jenks with a 15-yard gain on the first play, and by the Juriga-Drew Batty duo, teaming for 16 yards on an option play that brought the ball to the 6-yard line.
Two plays later, Jenks blasted through the middle for a 2-yard touchdown and Batty added the PAT to make it 21-0.
From that point, a game Norwich group had a considerable uphill climb against what some believe to be the finest defense in Section 4.
"That was what we talked about in the locker room," Forks coach Kelsey Green said. "That was the way were going to start the second half. It didn't have to be fancy. If it's going to take four downs, then it's going to take four downs. But we're going to go down and score, and that's what we did."
"We planned on scoring on the first drive, try to take them out, and we did," Jenks said.
Pluta said, "That drive they put on, took six minutes off the clock, that was just a great drive on their part -- and I thought our kids played some good defense on that drive. They overpowered us."
Forks' final TD came on a 6-yard rush by Jenks on the opening play of the final quarter.
Norwich averted the shutout when Garrett Bilow carried in from the 1 on the second-to-last play of the game.
"It didn't surprise me," Green said of the fight put up by Norwich. "It might have surprised some of the kids, especially because it started easy just like the last 5-6 games -- and that's exactly how it's been starting.
"Then we started having our holding penalties, and they moved the football."
Juriga said, "No one's perfect. We haven't made a lot of mistakes this season. Tonight we made a few mistakes, but we did come together as a team, that's what was important."
---
Photo caption: Chenango Forks' Kelsey Jenks holds off Norwich's Chris Tom's tackle attempt in the first quarter Friday night at Binghamton Alumni Stadium. Jenks rushed for 165 yards as Forks cruised to the Section 4 Class B title with a 28-7 victory - Jim Sanchez - Binghamton Press & Sun-Bulletin photo