Forks routs CV to remain unbeaten
Fast start leads CF over rivals
BY MIKE MANGAN

BINGHAMTON -- The scenario for this year's renewal of the Chenango Forks-Chenango Valley football rivalry was quite similar to last year.

On one side, there were the state-ranked unbeaten Blue Devils, looking to build momentum toward a state title run. On the other side, a Warriors team looking for a return to its winning ways.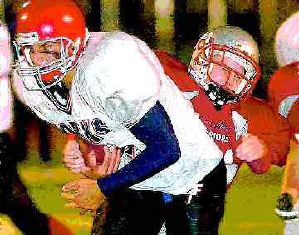 But while last season's contest provided a "closer than expected" win for Forks, that was not the case Friday night in a 40-2 victory over CV in a steady rain at Binghamton Alumni Stadium.
Kelsey Jenks and Nick Mirabito scored two touchdowns each for the Blue Devils, who blew the game open with a 20-point second quarter en route to its eighth straight victory over its chief rival.
"To win this game, especially in my senior year, it just feels incredible," Jenks said. "Last year, they gave us a run, so we felt it was important to get up on them early."
Last year, Forks squeaked out 13-6 home victory over CV. The Blue Devils entered that game ranked 11th in the state in Class B according to the New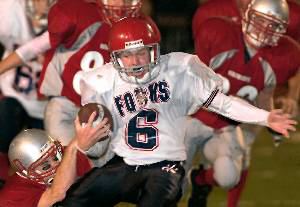 York State Sports Writers Association and would eventually finish as state runner-up. CV would finish 2-7, its fifth straight losing season.
This time, Forks (4-0) -- currently ranked second in the state in Class B -- removed any doubt by the end of the first half.
After taking a 6-0 lead on Jenks' 6-yard touchdown run with 7:50 left in the first quarter, the Blue Devils scored three more touchdowns in the second quarter.
Jenks scored on an 18-yard run -- the first play following an interception by Tim Green of a Nate Andrus pass and 15-yard unsportsmanlike conduct penalty on CV -- to give Forks a 12-0 lead with 8:20 left in the second quarter.
CV (1-3) drove to the Forks' 39 on its ensuing drive, but Matt Juriga intercepted Rick Connors' third-and-9 pass and returned it 17 yards to the Blue Devils' 47. Six plays later, Mirabito scored on a 6-yard run as Forks took a 19-0 lead with 3:23 left in the second quarter.
After CV stalled on its next drive, Forks took a 26-0 lead when Chris Spencer broke an arm tackle near the line of scrimmage and broke free for an 82-yard touchdown run with 1:27 left in the half.
"I thought CV played pretty well, we just had some big plays that turned things our way," Forks coach Kelsey Green said. "Defensively, we've been playing very well all year, making other teams turn the ball over and stopping the run, and I felt we were able to do that (tonight)."
The Blue Devils certainly did that, forcing four CV turnovers and limited the Warriors to 66 yards rushing on 26 carries.
Meanwhile, the Blue Devils piled up 328 of their 385 total yards on the ground. Spencer finished with a team-high 108 yards and Jenks added 72 yards.
CV coach Bob Zanot declined to comment following the game.
Zanot did see his defense play well early before eventually getting worn down by Forks.
After giving up a touchdown on their defensive series, CV held the Blue Devils without a first down on its next three series and forced a Jenks fumble on a third-and-goal run from the CV 6 early in the second quarter with the score still 6-0.
But then came Green's interception of Andrus' pass, and Forks would roll from there.
Photo one - Forks' quarterback Matt Juriga is tackled a yard short of the goal line by CV's Kellen Spencer in the third quarter on Friday. Nick Mirabito would score on the next play in CF's 40-2 win. - Jim Sanchez, Press & Sun-Bulletin
Photo two - Chenango Forks' Tim Batty got loose for a 9-yard run before being brought down by Chenango Valley's Chris Dotson during the fourth quarter of Friday night's game at Binghamton's Alumni Stadium. Forks won the battle between archrivals, 40-2. - Jim Sanchez, Press & Sun-Bulletin