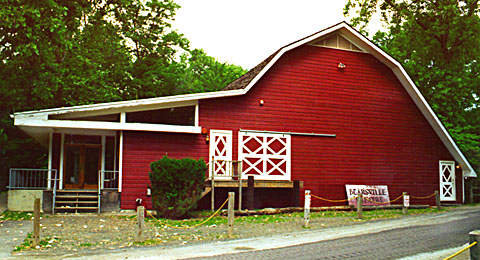 If you want to find the Bearsville Theatre (above) where JewelStock was held, when in downtown Woodstock, travel west on Tinker Street/Rt 212 (the main drag), heading towards Bearsville, where the theatre is located. The theatre is on your left, just a tad more than a mile west from the Woodstock Fire House. If you cross a small bridge over a creek, you've gone like 50 feet too far. The creek runs right by the theatre...it's nestled near the woods behind three eateries. (all of which I recommend)
---
The Birth of
Text mostly written by Dennis Harris (stolen/edited/updated by Mike Connell)
...
As the Internet grows, there is a growing concern that it will divide our populace and de-humanize our society. Disproving this contention is the recent experience of an online fan discussion group for the singer/poet Jewel Kilcher.
After many months of online communication, dedicated members of the jewel@smoe.org mail list group found themselves meeting face-to-face in the historic Bearsville Theatre near Woodstock, New York. Aside from limited contact at local Jewel performances, most participants had never met before. Fans ranged in ages from 15-50, with diverse interests that seemed to include only one common focal point: Jewel and her music.
In light of today's high profile marketing of musical artists, the events that led to this unlikely rendevous are even more remarkable.
In response to a list members' off-hand request, Jewel agreed to give a private concert for the list members. Through Hiranya, a Jewel management contact and sometimes participant in the list group discussions, Jewel made an early June post agreeing to do a private performance. The response from the list was phenomenal, with the event quickly being given the label "JewelStock" for its close proximity to the Woodstock community.
One of Hiranya's stipulations was that list members would handle most of the arrangements. Many list members stepped forward to do just that. Mike Connell, Richard Chang & Bill Goodliff made advance scouting trips to Woodstock to gatherup logistical info to post to the list, coordinated communications with other list members across the country regarding lodging, camping, RSVPs, Woodstock/Bearsville tourist info, general updates etc, Mark "Crunch" Nissley co-ordinated the main camp site and venue arrangements were handled by Lenedra Carroll, Jewel's mother and co-manager. Other members pitched in too.....Dennis Harris established a web site for distributing the information posted on the list, Phil Kelnhofer designed an event tee-shirt, Dennis "He's everywhere" Harris designed and handed out dozens of JewelStock buttons, Dan Stark landed A&M recording artist Patty Griffin as the opener for the Thursday show and Lisa Schiller coordinated carpools/rides across the United States. (The latter effort was cleverly dubbed "Angel Needs a Ride" after a popular Jewel song) Many other EDAs pitched in at the event for various tasks including Jackie Fitzpatrck, Steve Arrington and Alan & Amy Jo Bershaw. Oh yeah, Steve "Sinjin" Perkins valiantly captained the Frisbee Defense Guard. (lost a fingernail saving Jewel from a wayward frisbee :)
While this event started out as a private party and concert for the members of the list group and their guests, it soon evolved into a two night affair as a second concert was added, to be held for the benefit of the Bearsville Theatre operating budget.
The theatre venue was selected as it was being used for rehersals, and its close proximity to the studio Jewel was recording her followup album to "Pieces of You," which ijust passed quadruple platinum status. The Thursday night, July 18th concert was closed to the general public, and free to all list members who traveled to see Ms. Kilcher perform. Tickets for a second show on the following night was partially open to the public. All proceeds from the $15 ticket price went to benefit the Bearsville Theatre.
Fans traveled from across the United States, most carpooling, some from as far away as California. Jewel has a loyal and dedicated fan base, with as many as 450 routinely participating in discussion via the e-mail based discussion group. Much of the discussions concern Jewel's lyrics, show reviews and well-meant advice and banter between list members. Humor is a trademark of these fans. Universally, they have taken for themselves the moniker of "EveryDay Angels," a term taken from the Jewel song "I'm Sensitive."
"I'd rather see the world from another angle,
We are EveryDay Angels,
Be careful with me 'cause I'd like to stay that way."
As mentioned before, A&M recording artist Patty Griffin opened for Jewel on Thursday night, followed by poetry readings and singing by Jewel. This was a hardcore group of Jewel fans, wanting to hear her lesser known live material, currently commercially unavailable. Appropriately, the two songs neither requested nor sung were her then current mega-hit single "Who Will Save Your Soul?"nor her followup release "You Were Meant For Me". After the show, both artists met with the fans for autographs, pictures & chit-chat. After Jewel retired, list members continued socializing until the wee hours of the morning at various local parties.
Then the next night, many of us did it all again at the second JewelStock show :)
Live performances from both shows were taped for possible inclusion in Jewel's new album, but the only one that made the cut was "This Little Bird", which was sung solo by Jewel's mother Lenedra on the first night of JewelStock. Jewel recorded her harmonies for the track during the Spirit recording sessions in the late summer of 1998.

Back to the The Main Page