The Bearsville 2000 Annual EDA Survivor...errr...Gathering
near historic

(event formerly known as the the
Reunion)
BV2000 NEWS FLASH! The event is NOT going to be at Steve's Campsite this year....see the "News Flash" below!
Disclaimer #1: As usual, Jewel will NOT be at this event.
Disclaimer #2: As usual, Dennis Harris WILL be at this event. (although THIS year, every third day you will get a chance to vote him off the island ;-)

EDA fun scheduled for Friday July 21st thru Sunday July 23rd

If you can give a ride to EDAs who really, really don't wanna walk to Bearsville, please visit the "Angel Needs A Ride" page (link below) to offer your services!!! :-)


NEWS FLASH: Apparently Steve's Campsite has gone to that big burned out campfire in the sky. We JUST found out about this on Wednesday June 28th, but already have 2 potential new sites dart-boarded, both very close to Steve's. I checked out both sites recently to make sure they can handle our emmigrating insane asylum. Tammy then posted asking for votes. As soon as the vote is finalized details on the new site will be here and posted to the EDA list. - Mike
Last updated on June 06, 2001
Check back often for updates & more info
Go here for photo enhanced Directions To Steve's Campsite
The Latest News & What To Bring updated July 16th
Who Is Coming updated on July 21st
Carpooling/Angel Needs A Ride page updated July 16th

| The Latest News | | The Main Page | | Directions, Maps, Cyber-Trip Planners, Camping and Lodging |
| Who Is Coming? | | Angel Needs A Ride (carpooling) |
| If Ya Wanna Go & Pay Hommage At The Site Of JewelStock, Find This Place |

OK, What bands have you got lined up and how much are the tickets?
No no no....this ain't that kinda Woodstock event. This is just a little ol' EDA gathering that was born in 1997 and has developed into an annual event to enable the subscribers of our Jewel fandom community to get together and hang out for a peaceful fun weekend in the lovely Catskill Mountains of New York State.
Basically, it's as simple as this. Many folks believe the Jewel list was really "spiritually" born when Hiranya first announced JewelStock in early June 1996. (Hiranya was then the lists' main contact with Jewel and her management, as she worked for Jewel in the office)
The JewelStock event itself was quite special, and many friendships were formed during those three days in Woodstock/Bearsville in July 1996. Since then many "EDA gatherings" have happened, arguably due to JewelStock, with most of them occurring without Jewel anywhere near the place (i.e. EDA gatherings generally are not featured around a concert of Jewel's, although some are).
Three years ago, as the first anniversary of JewelStock rolled around, the idea for a major reunion/campout/EDA gathering in the Woodstock/Bearsville area surfaced, thus Bearsville 97 was born. The next summer we had Bearsville 98. After much intense brainstorming via conference calls, we decided to name last years' event Bearsville 99. Sticking with tradition. while adding two digits, this years will be known as Bearsville 2000.
BV 97, BV 98 and BV99 were rousing successes, as over 40 people attended at various times of the events, and last year it was even more as members of Jewel's management team, including Jewel's brother attended since there was an HGH Workshop at the Bearsville Theatre, the same place JewelStock was held. These times musical entertainment was not part of the events, and it wasn't needed, as list members pretty much hung out and had fun, took in the Catskill Mountains, went to Woodstock to be hippies for a day, partook in whatever asylum-induced fun our lunatic Entertainment Director (Dennis Harris) surprised us with (you can BET this years' lunacy will likely again revolve around plywood bovine :-)
Previous years' EDAntertainment included.....
the 1998 Amy's EDA Madlibs!!!!! (check out the BV 98 EDA's Madlibs page! )
the annual pool to guess how late after his ETA that Harris and "his crew" will arrive
just hanging out
"Oh boy!!! Laser Tag! Dennis, you da man.....you DA MAN!"
playing ball (well, it was kind of a cross between softball/wiffleball/kickball/prisonyard ball)
AMAZING starlit nights in the Catskill Mountains!!
watching Erica Cavallo continually fall down playing whatever ball we was playin'
Pink Flamingoes at the Harris Compound!
LOLing at/with Jon Reade in the funniest baseball/softball skits since "Who's On First?" (it certainly wasn't Erica!!)
"Yippee! More Laser Tag! Hey Becca, ain't Dennis DA MAN?!"
getting totally weirded out at the Woodstock Psychic Fair ("them psychics is d*mn good!")
purchasing some New Jersey rocks at the Psychic Fair
"More Laser Tag? Well.....uhmmmm....uh....OK"
doin' some fishin'
doin' some veggin'
doin' some cookin'
doin' some story tellin'
"What Dennis? MORE Laser Tag? OK, I'll play ONE more game, and that's it"
doin' some high-tech bacon grilling ala Chef Akira
learning some high-tech fire making techniques from Lauren Bond-fire
some sharing their poetry
Kelly Gallagher singing! (OK, so we DID have musical entertainment at BV 98 :-)
taking lots and lots of pictures
NOBODY really listening to the "in the recording studio" tapes of Jewel that MrBB played (I was trying DESPERATELY to listen, but everyone else was either reading poetry or grillin' bacon)
"OK Dennis, WHEN will this Laser Tag end? I have school in September ya know!"
the Bearsville 98 EDA tape grab bag!
marveling at all the comet pictures given to all by Mykle Mariette in 1998
raiding the mega-sized munchie supply depot in the bed of Crunch's truck
"MIDNIGHT Laser Tag?!? OK, that's it, Dennis, I'm sorry but I'm going to have to KILL you! HOLD him guys!"
enjoying EDA Mommy's (Tammy) Mexican breakfasts (I myself missed out BOTH years)
wearing Stephanies' Lovebeads for all at BV 97 :-)
dropping one's jaw witnessing Tom Proven's unassisted triple play at BV 97
partaking in the HGH Workshop with Jewel's management team, while watching them try to rope Woody!
tubing the rapids at BV 99
Sean Hooks (yes, THE Sean Hooks) showing up unexpectedly at BV99 to collect his "Send Sean To Camp" moolah.
saddened goodbyes after the Final Sunday Brunch and Squirt Gun Battles at the Diner Diner Diner
and pretty much having a good ol' nature filled weekend.
Sooooooooooo, this year we plan on doing it all again, and you won't have to eat any squirmin' larva in order to survive/stick around ;-)



OK!! I wanna go! I wanna go! Who do I write? Do I need 60's clothing & love beads and tie-dyed tees and tunes by Mott The Hoople, Cream, Jimi, Janis and Jefferson Airplane and far out groovy kinda things like that?
For camping and general Bearsville 2000 information contact Tammy "the EDA Mommy" at Bearsville2000@aol.com That's Bearsville2000@aol.com if you can't read the colored link.
For carpooling info, contact.......POSITION TO BE FILLED AT A LATER DATE!
For 60's clothing & love beads & far out groovy things like that, bring $$. Woodstock is chock full of shops that have this stuff. You can bring any tunes you want, but tradeable angelfood is always a must at EDA gatherings :)


Woodstock Links

.
| The Latest News & What To Bring | | The Main Page |
| Directions, Maps, Cyber-Trip Planners, Camping and Lodging |
| Who Is Coming? | | Angel Needs A Ride (carpooling) |
| If Ya Wanna Go & Pay Hommage At The Site Of JewelStock, Find This Place |
---
The Woodstock logo is not by me, originally designed by the operator of the now extinct Woodstock Institute of Technology webpage.
The JewelStock logo was in fact blatantly stolen by me from Dennis Harris, and there ain't one stinkin' damn thing he can do about it....not that he'd try anyway. Why? Because he's yella, that's why.
This page was designed and recklessly thrown on the internet by Mike Connell. You can direct kudos, flames and/or threatening letters to me at..Ducksoup@quackquack.net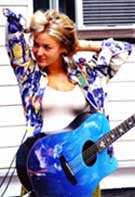 Jewel at the WDST Backyard Barbeque, July 16th, 1996 - Woodstock NY
This was two days before JewelStock....just some meaningless trivia for you