Chenango Forks reigns in 'B'
QB play, defense lead way to title victory

ENDICOTT -- Chenango Forks, uncharacteristically stung for two touchdowns in the first 7 1/2 minutes of play, tightened up thereafter and posted a 25-14 win over Oneonta on Saturday night for the Section 4 Class B football championship.

Junior quarterback Chris Spencer's 122 rushing yards featured a 66-yard sprint for the game's final points with 8:57 to play at Union-Endicott, punctuating the Blue Devils' 10th win in as many starts.

The next assignment comes at 5:30 p.m. Friday in the Carrier Dome, a state quarterfinal against Section 3 champion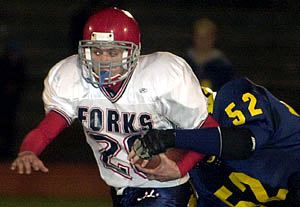 Cazenovia (9-1).
On this night, Forks showed its mettle.
Here was a team that hadn't surrendered more than nine points in a game since mid-September, trailing by 14-7 after Oneonta (8-2) had turned its second possession into a second TD.
But one telltale adjustment in the pass coverage, coupled with some championship-caliber pertinacity, turned matters around in a hurry.
The Blue Devils scored twice in the last six minutes of the second quarter, and when Roy Deyo crashed through defender Geoff Bean's tackle attempt at the goal line for a 1-yard score, it was 19-14 with 17 seconds to play before halftime.
"We haven't been in that situation a lot, but we were in it one game," Forks' Drew Batty said. "We knew we had to keep our heads up. We knew we had to stop the mistakes we were making and shut down their passing game."
That Oneonta passing game was at the root of Forks' early deficit.
Yellow Jackets quarterback Alec Macaulay completed four of his first five passes for 103 yards. Included were scoring passes of 9 and 61 yards to Chris Andreassen.
Something very clearly was amiss with this Forks defense that had allowed 7.7 points per game through the first nine.
"Our defense was pretty loose early on because our corners were out covering the split end, and that was freeing up the slotback," Spencer said. "So what we did was, the other safety and I moved out and we put the corner inside. We felt that would stop the slant pass."
Calling for the twist was assistant coach Dave Chickanosky, longtime keeper of all things defense at Forks.
The result? After his early-game success, Macaulay was 1-for-his-next-16 passing. And on a night the 'Jackets rushed for a 70-yard total, Forks was back in business.
"We adjusted our coverage a little bit, and we have some quickness back there, too," Forks coach Kelsey Green said. "I can't imagine playing them without any."
Too, the Blue Devils demonstrated some quickness, strength and elusiveness on the offensive side of the line.
Just three plays after Oneonta had taken a 14-7 lead, Batty turned what was designed to be a garden-variety running play into a 72-yard score to draw Forks to within 14-13 with 5:53 to play in the half.
Note from the webmaster - the above is not true. While it WAS a three play drive culminating with Drew Batty's TD run, it did not occur 3 plays after Oneonta took the 14-7 lead. Oneonta did not score again after the mid-point of the first period.
"I broke it up, and the linebacker and two safeties had ahold of me," Batty said of his first carry of the night. "Maybe I had Crisco on me or something, I don't know, but I slid right off."
Forks' trek to the go-ahead score began from its 44-yard line with 59 seconds left in the half following an Oneonta punt. The big play on the drive was a 34-yard pass from Spencer to Scott Lance that brought the Devils to the 4-yard line.
Three plays later, Deyo banged over the left side from the 1, and the lead was Forks' for keeps.
The lone remaining score was the doing of Spencer, who, as is customary at Forks, shared duty behind center with junior classmate Matt Juriga.
On first down from the Devils' 34-yard line, Spencer kept on an option play to his left, broke it to the sideline and ran through an attempted tackle by speedster Bean en route to the touchdown.
"That kid is amazing," Spencer said. "He caught me the first time [on a 46-yard, first-quarter gain], and I knew if I got free I was going to have to beat Bean. He got me by the legs, but I just didn't want to quit."
Green said of Spencer: "He had a game, didn't he? What a day!"
Forks closed with 363 rushing yards. And though they allowed 203 Oneonta passing yards, the Blue Devils -- with aid of a drop here and there -- hounded Macaulay into a 9-for-30 night.
"Obviously, we have Kelsey [Jenks] at nose," Spencer said. "But if they double him, that frees up somebody else. We take pride in our defensive line. We're probably one of the most prepared teams for every game."
Picture Notes - The Devils' Drew Batty breaks away from Oneonta's Liam Murray and scampers away to a 72-yard touchdown run in the second quarter at Union-Endicott's Ty Cobb Stadium. Forks won, 25-14, to improve to 10-0 and advance to the Class B state tournament quarterfinals in the Carrier Dome against Cazenovia of Section 3