The article from the Syracuse paper is at the bottom of this page, below the stats.
SYRACUSE -- Make it 11 Chenango Forks football opponents up and 11 down, not a one able to get the better of this tremendously intense and physical unit that may now set very realistic sights on a state title.
Friday night's step in that direction came in the form of a 27-7 battering of Cazenovia in a Class B state quarterfinal in the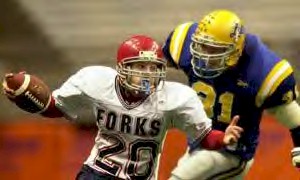 Carrier Dome, a shutout averted when the Lakers punched one in with 2 1/2 minutes left and the outcome long since decided.
As 20-point margins of victory go, this one was more than a tad misleading.
Forks, ranked No. 1 among the state's Class B lot for many good reasons, was far superior.
Senior halfback Roy Deyo was the big-play offensive guy, scoring on rushes of 62 and 59 yards, and on an effortless 20-yard reception from Chris Spencer as the Blue Devils hammered away to a 27-0 halftime lead.
Ahead will be a semifinal back in the Dome against either Olean or Bath on Friday.
As for the quarterfinal, beginning with the very first play of the second quarter, it was really no contest.
That second 12-minute segment began with Forks holding a mere 7-0 advantage and staring down third-and-8 from its 41-yard line. The call was for a counter play, the ball carrier Deyo, and the primary path-clearer Kelsey Jenks.
Deyo accepted the handoff, made his way through initial traffic to the middle of the field and ... well 6 allow him to describe what transpired.
"There was one guy to beat and I was following Kelsey Jenks," Deyo said of his able-bodied escort. "If you're following Kelsey Jenks, there's no better feeling than that. You know you're going."
Go, he did, sprung by Jenks' leveling of that final defender at about the Lakers' 40. Deyo completed the 59-yard touchdown run, Steve Tronovitch added the point-after, and it was the safest of 14-0 leads.
That, by the way, was Deyo's second score of the night. The first came on the third play from scrimmage, when he tore off on a speed sweep for a 62-yarder down the Blue Devils'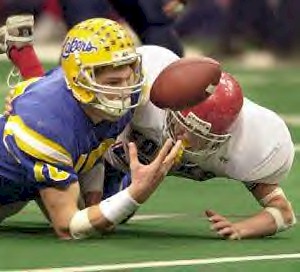 sideline that, it appeared in hindsight, dealt Cazenovia (9-2) a blow from which it never fully recovered.
A 14-0 lead, on this night, wasn't about to evaporate. Not with this Forks defense at its very best, making things absolutely miserable for Lakers quarterback Jamison Koesterer.
Koesterer had thrown for nearly 1,400 yards before Friday.
Of course, he'd yet to encounter anything like this Blue Devils' defense, with Steve Blackman and Jake Frisch and Jordan Jenks and Art Baxter and Jenks and the rest to go with that well-schooled secondary. Koesterer may be seeing red helmets in his sleep for some time to come.
He threw for 86 yards, but that came on 7-for-17 with three interceptions and too many pressures and bruises to track.
"Chenango Forks has a very good defensive line," Cazenovia coach Tom Neidl said. "That nose guard [Jenks], he's a tough cookie. He's quick, and he was coming on a lot of plays. And he wasn't the only one causing problems."
Talk about problems? The Lakers turned the football over five times, and had 14 plays go for negative yardage. In fact, Forks turned two turnovers into second-quarter scores.
Frisch recovered a fumble near midfield, and four plays later, Spencer delivered the tidiest of third-and-9 passes for a 20-yard score to Deyo, who was led perfectly and received the ball near the goal line beyond a beaten defender.
"Chris did everything on that play but catch it-- it was that beautiful," Deyo said.
And then there was an interception by the Devils' Drew Batty, one of two for him on the night, setting up Forks at the Lakers' 19 with 54 seconds to play in the half.
The TD was the doing of Jamie Hoover, a 4-yard rush that served to complement all the superb defense he played all night -- all season!
"We just came out more fired up, just took it to them early," said Hoover, his right hand a swollen mess upon completion of this very satisfying win.
Cazenovia threatened on occasion in the second half, only to be thwarted by Forks defenders.
There was Frisch pressuring Koesterer into a fourth-down incompletion from the Devils' 36, Hoover intercepting a pass thrown from Forks' 16-yard line, and then picking off another on first-and-goal from the 7.
"We got pressure from the outside and a good push up the middle without having to do any real stunting tonight," Forks coach Kelsey Green said.
In other words, it was just the basics, no trickery, that was more than sufficient to dominate this one.
"As a team, I think this was probably our best game," Deyo said.
Picture Notes (top) - Chenango Forks running back Roy Deyo looks for room to run as he is being chased by Cazenovia's Jack Sessler during Friday's Class B state quarterfinal at the Carrier Dome in Syracuse. Deyo had two long touchdown runs and a TD pass reception to lead Chenango Forks to a 27-7 victory.

Picture Notes (lower) - Cazenovia quarterback Jamison Koesterer, left, and Chenango Forks' Jake Frisch wind up battling for a fumble during the second quarter of Friday's state quarterfinal game in the Carrier Dome. Frisch wound up recovering and Forks won, 27-7.