A preview article on the game from the Press and Sun-Bulletin is here.
The feature article the Press and Sun-Bulletin ran on Coach Chickanosky is here.
The article from the Rochester paper is at the bottom of this page, below the stats.
Forks survives in OT
Blue Devils will shoot for first state title
BY KEVIN STEVENS
Press & Sun-Bulletin

SYRACUSE -- Through 48 minutes of offensive futility and defensive splendor, zeroes remained affixed to the respective scoreboard space assigned Chenango Forks and Bath.

But then, in the time it takes a 160-pound quarterback to cover 20 yards of Carrier Dome carpet carrying a football in hand and a team's steadfast refusal to lose on his shoulders, Forks struck.

Chris Spencer's heads-up option keeper on the first play of overtime was the difference, the most glittering highlight in a season chock-full of them for Forks, 7-0 winner over Bath in Friday's Class B state semifinal.

The top-ranked Blue Devils, perfect through a dozen games in this unforgettable season, earned a crack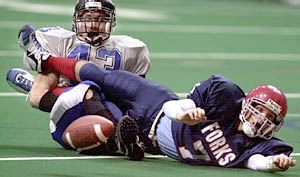 at the state title in a game to be played a week from tonight in the Dome against either Peru (11-0) or Harrison (10-0).
"It was a war the whole game, on both sides of the ball, we were just kicking the crap out of each other," said Spencer, a junior and one-half of Forks' quarterback platoon. "But we knew, sooner or later, we'd be able to break one."
Break one, Spencer did, dramatically, authoritatively, and with aid of picturesque path-clearing from his mates up front.
The Blue Devils had the football first in overtime, for which the format calls for each team to start on the opponent's 20-yard line.
The call was for a mid-line option, a play that had been effective in the early going.
Spencer accepted the snap, faked to his fullback through the line, slid a step or so to his right and ran virtually unmolested until he reached about the 2-yard line. There, he summoned what energy remained to power through the remaining defender and across the goal line.
Steve Tronovitch made good on the PAT kick, and it was up to Forks to serve up one more helping of the defensive dominance on display by both sides for the entirety of regulation.
With Bath, a Section 5 school located a half-hour west of Corning, facing second-and-9 from the 19, quarterback Keith Cagle attempted a pass intended for Heath Jimerson, but Forks' Coy Reynolds intercepted and the Blue Devils' celebration was on.
These Blue Devils, who had rung up no fewer than 25 points in a game since September, survived on one TD.
One view of The Touchdown, from Spencer's perspective:
"It was a mid-line option. All I do is read the first man outside the center. He came down on it so I didn't give it to the fullback. There was a huge hole there.
I had to beat the safety so I just lowered my shoulder and dove for the end zone."
The Touchdown, as Forks coach Kelsey Green saw it:
"We got Chris on the seam and, boy, did he sniff that goal line out. He was gone. It's just how it's drawn up. If you block everybody the way we're supposed to, it's him on the safety."
And, The Touchdown, as seen from behind the facemask of center Juan Mendoza:"Chris made a great read, saw they were coming down, he was able to get around-- it was a great run by him."
It was an opportunity cashed in, finally, unlike previous chances squandered on a day Forks ran up against a defense as sound as its own.
Forks' first possession lasted 15 plays and covered 59 yards before a fourth-down incompletion thrown by Spencer from Bath's 15-yard line. Along the way, the Blue Devils were flagged twice for 5 yards, nickle-and-dime miscues that would gnaw at them periodically throughout.
The Devils' next drive began at their 44-yard line and, again, ended at Bath's 15 when Roy Deyo was stopped for no gain on fourth-and-2. Thrown into the mix was a holding penalty against Forks.
Then, after Drew Batty recovered a fumbled pitch to give Forks possession at the Rams' 24-yard line, another drive ended when Bath recovered a fumble at its 15-- three plays after Forks was assessed 5 yards for illegal procedure.
Bath, meanwhile, didn't snap the football once in Forks territory before halftime.
"[Forks'] defense was like a wall," Bath's Cagle said. "We couldn't do much. Passes were here and there, but we could not run the ball."
Bath's deepest penetration into Forks territory during regulation came late in the fourth quarter. On a fourth-and-1 play from the Blue Devils' 38, Cagle faked a handoff through the middle, pivoted and -- on his first carry of the afternoon -- picked up 7 yards outside to set up first down with about three minutes to play.
Forks' defense was in a tight spot-- and responded.
Mark Robinson, Bath's 1,300-yard rusher, was stopped after a 1-yard gain on first down. Then, after an offside penalty backed up Bath to the 35, Cagle tried once again to sneak around the outside. This time, Forks' Art Badger was there to drag him down for a 9-yard loss.
On the next play, Spencer picked off a wobbly pass deep in the middle of the secondary.
"Our defense was just unreal," Green said. "I know their quarterback had a bad ankle coming in, but in the beginning of the game, he looked like he was moving pretty well. But then he hurt it again. With him hurt, they really became a between-the-tackles team.
"We felt, most of the time we were going to be able to stop that kind of thing. Outside, inside, our kids were flying all over. I think by the end of the game we had taken over that line of scrimmage very much."
Spencer was intercepted by Robinson four plays after he'd picked off Cagle's pass, and Bath attempted a desperation 49-yard field goal on the final play of the fourth quarter, a line-drive kick that caromed off a lineman.
Forks outrushed Bath 193-84, with Spencer's 58 yards on eight carries leading the way. Spencer was selected Forks' offensive MVP by a committee of state officials, and senior end Baxter was chosen the Devils' defensive MVP.
"Bath was, by far, the best team we've played all year," Mendoza said.
"They were physical," Spencer said. "They weren't fancy; they were going to come right at us all game."
Picture Notes (top) - Chris Spencer doesn't have the ball, but he has the game's only touchdown, leading Chenango Forks to a 7-0 overtime victory over Bath on Friday at the Carrier Dome. Spencer, tackled by Keith Smith, lost the ball, but not until after crossing the goal line on a 20-yard option run on the first play of OT

Picture Notes (lower) - Chris Spencer puts the exclamation point to the winning TD