JOHNSON CITY -- Taking repeated advantage of a chimney-high pile of Johnson City blunders, Chenango Forks claimed a 48-28 victory Saturday in a football game that was considerably more lopsided and as aesthetically pleasing as a landfill.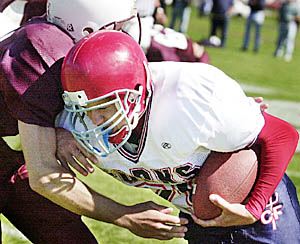 The Blue Devils enlarged a 22-0 halftime lead to 42-6 in the early stages of the fourth quarter, in the process limiting JC to six offensive snaps in the third quarter.
Halfback Roy Deyo rushed for a game-best 103 yards and Forks' quarterback platoon accounted for the game's first four touchdowns as the Blue Devils improved to a 2-0 record with the non-league triumph.
Whether or not a JC squad operating at peak efficiency might have had a shot in this one is anyone's guess. But with the Wildcats turning over the football eight times, Forks wasn't threatened.
"I'd like to give them the credit," JC coach Tony Romeo said, referring to his team's unending string of miscues. "They're a good football team. I thought they were before the game and I haven't changed my opinion at all. They're a solid club. There is very little weakness. They don't make many mistakes.
"They're an opportunistic team and they make their breaks."
One blocked punt and one JC turnover led to two of the Blue Devils' three first-half scores, and the guests twice recovered onside kicks in the third period and made short work of the resulting short field on each occasion.
Defensively, the Blue Devils blanked Johnson City into the fourth quarter, to which point the Wildcats' lone points were scored when Jon Colgan returned a fumble 45 yards to the end zone midway through the third.
Forks recovered three JC fumbles in the first quarter, and its first TD came after Rick Ganoung blocked Colgan's punt to set up the Blue Devils at the 1-yard line. Rick Spencer, splitting time at quarterback with junior classmate Matt Juriga, scored on a quarterback sneak and added the two-point run with 2:47 to play in the first quarter.
Spencer scored another TD, and Juriga two in the second quarter, during which JC punted once and was intercepted twice.
"We're so pumped up before games, we feel like our defense is unstoppable," said junior Kelsey Jenks, Forks' All-Metro nose man and the root of a good deal of which troubled Johnson City on this day. "We just come and play with a lot of heart, that's how our defense runs.
"If our tackles clog holes, I'm there, or if I'm clogging a hole I can count on them to be there. Pretty much, we all rely on one another and we've all got the speed to do that."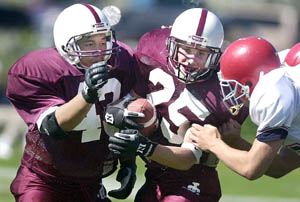 Forks coach Kelsey Green said, "After the rocky start, I think we did sort of control the line of scrimmage a little bit."
To start matters, Johnson City fumbled away the football at its 23-yard line on the first play from scrimmage, and Forks returned the favor on the very next play. Johnson City's second possession ended with another lost fumble, but Forks proceeded to give up the ball on downs after reaching the hosts' 24-yard line.
In all, a combined eight fumbles were lost. Forks' intercepted JC quarterbacks four times, with the second of Jamie Hoover's pair of picks returned 27 yards for a fourth-quarter score that made it 42-6.
Spencer and Juriga accounted for the other interceptions.
"Jon Ruminski is sick, he's got some kind of bug, so I don't think we saw his true colors today," Romeo said of his starting quarterback. "(Reserve QB Joe Tokos) is coming along. Joe can throw the ball, he'll hang in there. He got the opportunity and he demonstrated what he can do."
Tokos completed three of 10 passes, including fourth-quarter touchdowns of 14 and 36 yards to Nate Kocak.
"This was definitely an improvement as far as intensity over a week ago," said Romeo, whose team absorbed a 28-0 season-opening loss to Oneonta. "I think we played with more determination against a real solid club. I was happy with that."
Chenango Forks plays host to Dryden next Saturday. Johnson City will seek its first victory when it ventures to Elmira Southside, also on Saturday.
picture 1 - CFs' Roy Deyo returns a 4th quarter punt while JCs' Matt McGovern attempts to thwart his efforts
picture 2 - JCs' Dan Matias returns a 2nd quarter punt while CFs' Art Baxter attempts to thwart his efforts.