Click here for a Forks/CV preview article from Friday, 9/28 2001 by Kevin Stevens

CHENANGO FORKS (9/29) -- A quick look at the win-loss records and team statistics suggested that Chenango Forks wouldn't have much trouble with Chenango Valley in the latest chapter of one of the Southern Tier's best high school football rivalries.

The numbers turned out to mean very little Saturday.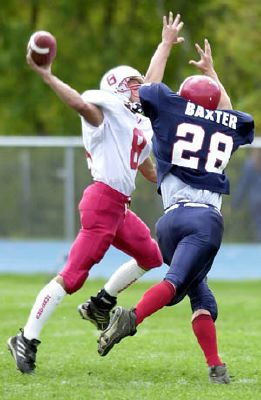 Chenango Forks withstood a spirited effort from the Warriors and hung on for a hard-earned, 13-6 victory.
Drew Batty had a pair of interceptions and returned a fumble 19 yards for a touchdown late in the fourth quarter, helping the Blue Devils remain perfect through four Section 4 Football Conference games. It was Forks' seventh straight win over CV.
"My goodness, what a game," Forks coach Kelsey Green said. "It wasn't a pretty victory, but you go into every game with one objective and that's to win, so we're thrilled.
"I know the guys from CV are despondent right now, but they have nothing to hang their heads about. They played a great game."
Forks entered the Division III game ranked 11th in the state in Class B by the New York State Sports Writers Association. The Blue Devils were averaging 35.3 points and 250 yards rushing while holding opponents to an average of just under 14 points per game.
CV (1-3) was coming off a 61-21 loss last weekend at Delhi. The Warriors had allowed an average of 30 points a game.
Yet, with under five minutes remaining, the Warriors trailed just 7-0. They had the ball on their own 33-yard line after a 13-yard run for a first down by Brandon Pickering.
After an incomplete pass, CV split end Eric Brey was hit for an 8-yard loss. On third down, CV tried to run Brey left, but he was crunched behind the line of scrimmage by linebacker Steve Tronovitch, who knocked the ball loose.
Batty scooped up the ball at the 19 and ran untouched into the end zone to put Forks ahead 13-0 with 4:31 left.
"I think Eric was just trying for that extra yardage, and the ball just got loose," CV coach Bob Zanot said.
CV scored on Nate Andrus' 65-yard touchdown pass to Brey with 3:53 left, but Forks recovered the onside kick and ran out the clock.
Although the Blue Devils were limited to 197 yards of offense -- largely the result of CV's switch to a 5-3 formation from its typical 5-2 -- they were up to their usual stingy standards on defense. The Blue Devils held the Warriors to 46 yards rushing on 29 carries and 143 yards total.
Forks also forced four turnovers. The first turnover, a Coy Reynolds interception of an Andrus pass at the CV 30, led to a quick score. After a 28-yard run by Jamie Hoover, quarterback Chris Spencer scored on a 2-yard run just 1:14 into play.
Forks found the going tough offensively after that touchdown, but its defense stifled several good scoring opportunities.
Andrus was picked off by Batty on consecutive possessions in the second quarter, the second interception coming at the Blue Devils' 19-yard line.
"The defense played a tremendous game," Green said. "We made every play defensively today but one. They really carried us today."
Said Zanot: "Through the years we've always had a hard time scoring on Forks. And I don't think we're alone. We know what they're going to do and it's still hard to get things going against them.
"We were just looking to catch a break, and we just couldn't do it."