Game preview article here Game review (Tuesday paper) here.

No game article from the Elmira paper, they used the Press article.
Forks' big plays stop EFA
BY KEVIN STEVENS
Press & Sun-Bulletin

ELMIRA -- To begin this season of Section 4 football title defense, Chenango Forks' defenders dominated.
With aid of a critical first-quarter stand when Elmira Free Academy drove deep into the visitors' territory, Forks dismantled EFA for a 20-0 victory over the reigning champions of Class A.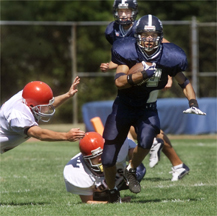 EFA workhorse Reggie Wallace finds some running room against CF
The brothers Batty -- dependable senior Drew and sophomore up-and-comer Tim -- accounted for all of the points on a day Forks proved itself a capable defender of its Class B championship.
"I foresee nobody -- nobody -- touching them all year," a thoroughly convinced EFA coach Dick Senko said of those opponents found on Forks' regular-season schedule.
Senko's Blue Devils were without junior tailback Derrick Beckworth, a 1,492-yard rusher last season. Of his absence, Senko said, "I can't say. It's just an in-house situation," and declined to elaborate.
Whether Beckworth's inclusion in EFA's backfield would have been enough to swing the outcome will be left to debate. What is known is that:
* EFA didn't pick up its third first down until the final two minutes of the third quarter.
* EFA rushers netted 74 yards -- a paltry 2.2 per carry.
* Forks forced EFA's punt team into action on seven occasions.
"We thought we were ahead defensively, with a lot of kids back," Forks coach Kelsey Green said. "We shut the run down very well. I know they were missing their top running back, but that No. 44 (Reggie Wallace), he's a good one, he was a good one last year. We had to play against good people."
Especially staunch was Forks' defense when facing its tightest spot of the ballgame.
With aid of a 49-yard pass play from Kenny Hartnett to Josh Furnas, EFA reached Forks' 2-yard line in the final minute of the first quarter.
Immediately, EFA backed itself up with a procedure penalty -- one of its 10 penalties on the day -- and Forks followed with some big-play defense. On second down, linebacker Matt Blackman stopped Wallace for a 4-yard loss. Next, end Zach Tarnowski felled Hartnett for a sack good for 8 more negative yards.
The ensuing field goal try, a 34-yarder by Furnas, was left of the mark and the game remained scoreless.
From that point, there was no beating this Forks defense.
"When we get down near the goal line, there's nothing they can do," said Jake Frisch, a defensive end for Forks. "We feel like we're pretty much just like a wall."
Green said, "The kids just remember, (the opponent) isn't in until they're in."
Forks' point production came exclusively via the big play.
First to strike was Drew Batty, calling upon some heads-up improvisation to set in motion a 68-yard touchdown rush with 7:49 to play in the first half.
"I wasn't even supposed to be the pitch man," Batty said of the option play toward EFA's sideline. "I was a blocker and I saw (quarterback Matt) Juriga run by me and I yelled to him to pitch the ball, and he pitched it."
Drew Batty's second score came one play after he and Juriga hooked up on a 25-yard pass play to EFA's 37-yard line. Batty accepted the handoff on a misdirection play and, with running room to spare, scooted in with nary a defender afforded a realistic shot at the tackle.
"I give all the credit for that one to the line," Batty said. "They opened the biggest hole. I didn't even get touched by the defense."
Oh, as Green remarked after all was said and done, "And how 'bout little brother there, too?"
Young Timothy Batty, sure to be heard from in assorted roles this season, completed the scoring by intercepting a pass from Hartnett at Forks' 26-yard line and sprinting the distance. It was Tim Batty who converted the PAT kicks following his brother's scores.
Photo Credit: Miles B. Norman - Elmira Star Gazette