Post-game articles from the The Binghamton Press & Sun-Bulletin and hopefully soon, the Corning Leader and the Rochester Democrat & Chronicle newspapers follow next on this page (I expect to find articles from those papers on Monday). All three papers also had some preview articles for the game. Those articles are below the stats on this page.
Forks' passing stuns Bath
Juriga's 3 TDs put Blue Devils in championship
BY KEVIN STEVENS
Press & Sun-Bulletin

SYRACUSE -- Indeed, that was Chenango Forks playing football Saturday in the Carrier Dome. Blue uniforms, red helmets, sound and active defense -- uh-huh, those were the Blue Devils, alright.

But get a load these numbers, the most telling difference-makers in a 28-14 win over Bath that earned Forks a berth in the Class B state final for a second consecutive season: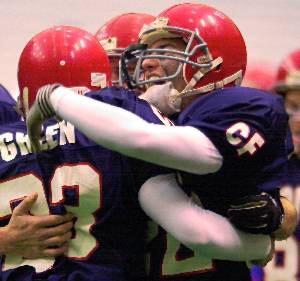 * The Blue Devils took a first-quarter lead they wouldn't relinquish on a 44-yard, first-down touchdown pass from Matt Juriga to Tim Green.
* They go up top again, Juriga-to-Nick Mirabito for a 21-yard score, and make it 14-6 late in the first quarter.
* Then, on the third play of the second quarter -- again on first down -- it was Juriga to tight end Zach Tarnowski for a 66-yard catch-and-run gem of a score.
By halftime it was 28-6, and the Blue Devils' bread-and-butter running game had given way to ... well ... Air Forks!
The victory earned Forks (12-0) a matchup against Harrison, a 31-21 winner over Lansingburgh in Saturday's other semifinal, in the title game at noon a week from today back at the Carrier Dome. On that day, the Devils will look to secure the title that eluded them in a one-touchdown loss last year to Peru.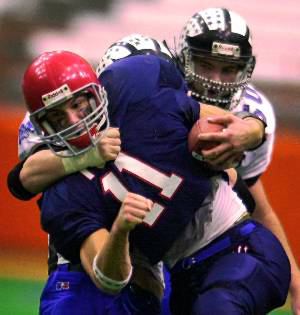 The aerial display caught many in the Blue Devils' section of Dome bleachers off guard, and certainly did likewise to Bath (10-1), which came prepared for a steady dose of Forks power.
After all, Chenango Forks doesn't throw the football, right?
"I've been hearing that all season, that we're a one-dimensional team," said Juriga, named Forks' offensive MVP by a state football committee. "Personally, as a quarterback, I take a little offense to that. I have confidence in myself and my teammates that we can throw any time we want.
"We just haven't had to this season."
Make no mistake, on Saturday, against a large, extremely physical Bath defense bent on containing the run, Forks had to throw.
"You think we're going to win that game running it every play against that team?" Forks coach Kelsey Green asked. "They are a bigger, stronger version of the team we saw last year (in a 7-0 overtime win in the state semifinal round). I just didn't think that, consistently, we were going to move the ball down field on them."
And so, Forks passed.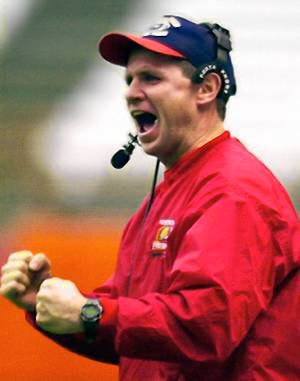 The first score came one play after Forks' Drew Batty intercepted a pass to set up his team at Bath's 44-yard line. Juriga dropped and threw to his left, connected with Tim Green at about the 20-yard line, and Green -- who made the catch with no defender within 10 yards -- made it into the end zone.
Tim Batty's PAT kick made it 7-0 midway through the opening quarter.
Bath's Mark Robinson answered, with an 8-yard TD run that finished a 75-yard drive. But the Rams missed the PAT kick, and it was 7-6.
Not for long.
On Forks' fifth play after the score, Juriga delivered a soft pass into the end zone that Mirabito ripped away from defender Cody Muchler for the TD. Tim Batty's kick made it 14-6 with 1:23 to play in the quarter.
Forks' defense forced Bath three-and-out, took possession after the ensuing punt on its 42-yard line, but was backed up a holding penalty 2 yards into a rush by Kelsey Jenks.
On first-and-18, Juriga threw deep down the Bath sideline and Tarnowski -- 6-foot-3 and 236 pounds of tight end -- made the catch on a dead sprint at the 43-yard line and continued in for his team's third passing TD in 12:40 of game action.
Yes, Bath, there is a Forks passing game.
"They were playing up real tight in the box, and we felt like we could get a couple balls behind their defense," Tarnowski said. "That's exactly what we did."
Mirabito said, "I don't know what was going through coach Green's mind this morning -- but, hey, it worked."
Juriga's only three completions in five attempts went for 131 yards and three TDs. He added 75 yards worth of tough rushing, Forks' second-best behind the 19-carry, 103-yard total of Jenks.
Jenks, named defensive MVP based on his work at nose guard, got into the end zone on a highlight-reel run of 53 yards midway through the second quarter.
Jenks carried the ball to his right, got around the corner, headed down the sideline and blasted through a tackle attempt by the Rams' Dave Putman at the 18-yard line.
A lengthy trip through years worth of film might be required to find the last ballgame in which 75 percent of Forks' TDs in a ballgame were scored via the pass.
"The corner was playing so tight, so we'd go with a little play action and they'd bite, that's why the fly would be wide open," Juriga said.
"It went over our heads a couple of times," Bath coach Wayne Carroll said. "If I had about four plays to do over ... "
With a 28-6 lead in hand, the Blue Devils didn't throw again, instead turning matters over to what they hoped would be a ball-control running game working in concert with their extraordinary defense.
While the running game was fairly well bottled up by Bath's defense, the Blue Devils' defenders more than held up their end.
Bath's second-half TD came on a 31-yard rush by Robinson (28 carries, 158 yards) with 2:21 to play in the third. Thereafter, the Rams didn't penetrate beyond Forks' 40-yard line.
"You cannot get behind 28-6 and expect to win a high school football game," Carroll said.
Especially not against Forks.
---
Photo caption top: Tim Green celebrates with Matt Stephens, right, after Green scored the first touchdown.

Photo caption middle: Matt Juriga is tackled by Bath's Mike Stromsness, back left, and Adam Coots.

Photo caption bottom: Assistant coach Dave Hogan celebrates a first-quarter touchdown by the Blue Devils.

---
The Binghamton Press' "5th Quarter" - Tuesday Nov 26, 2002
FIFTH QUARTER: CF takes offense to the air
Passing game surprised Bath
BY KEVIN STEVENS
Press & Sun-Bulletin

Just maybe, the time has come to update the football scouting report on Chenango Forks.

The Blue Devils, who breezed along unbeaten by running the football through their first 11 games, wisely -- and with great efficiency -- sprinkled in the pass in Saturday's 28-14 win over Bath to advance to the Class B state title game at noon on Sunday against downstate power Harrison.

Here was a team that, before Saturday's contest in the Carrier Dome, had passed for two touchdowns in its most recent eight ballgames combined.

Against Bath, quarterback Matt Juriga threw for scores on three consecutive passes.

"We thought we could hurt them on outside streaks on early downs, we couldn't wait until passing situations," Forks coach Kelsey Green said. "I think maybe because of our option, they crowded the line of scrimmage a little bit.

"But we couldn't make a living doing that (passing), either. Once that worked a couple times, that was over."

Juriga's TD throws went for 44 yards to Tim Green, 21 yards to Nick Mirabito -- who ripped the ball from a defender in the end zone -- and 66 yards to tight end Zach Tarnowski.

"On early downs, they gave us a few looks that we thought we might be able to exploit, so we did," Green said. "It worked early, then I was sort of a coward in the second half and decided to play the clock. It worked, but it was a little hairy there for a while."

Mirabito said, "(Bath) had tons of guys in the box, and we knew we were quicker than them."

Juriga added, "The corner was playing so tight, so a little play action, they'd bite on that and the fly would be wide open. That's what happened on the deep ball a couple times, play-action fakes opened it up."

The lone TD passes thrown by Forks in its most recent eight games had been a 47-yarder from Juriga to Green on Nov. 2 against Oneonta, and a 31-yarder from Juriga to Mirabito on Oct. 25 against Bainbridge-Guilford/Afton. ...

Bath earned the respect of one and all on Forks' sideline for a second consecutive season. It was largely the same group of players that made up the team Forks slipped past by 7-0 in overtime in a 2001 state semifinal.

"We've played them twice, and I still don't know who's the best team," Green said. "We happened to win both. I feel awful for them. We know the feeling from a year ago, it's a bad feeling. But in a day or so, they'll realize that they're pretty darned special -- and we had to be that way to beat them today.

"I don't think there were any secrets between the two teams. It's almost like now we're in the same conference or something. They knew what we were going to do, except for a couple of those throws. And we knew what they were going to do. Then, it's just stopping them. They were tough to stop." ...

Forks senior Kelsey Jenks actually required a breather or two during Saturday's game. He sat out a handful of offensive plays, yielding fullback duties to Steve Tronovitch.

"Kelsey is fine, he's exhausted," Green said moments after the game. "The kid carries the ball, plays nose guard and goes 100 mph every play. I don't care what shape you're in, you're going to be tired, especially given the kids he's playing against. Those were physical kids."

Tarnowski added, "The was the most physical game of the year -- by far." ...