The Binghamton Press and the Elmira paper both ran preview articles this week. The game article and stats are below the preview articles. The Elmira paper just used an edited version of the Press article on the game, so there is not Elmira article on the game. Tuesday's "5th Quarter" in the Binghamton Press had a small piece on Kelsey Jenks. It's below.

Elmira Star-Gazette, October 18th:
Notre Dame (6-0, 3-0) at Chenango Forks (6-0, 3-0): Notre Dame obviously has its hands full. Forks was the state Class B runner-up last year and has outscored its opponents by an average score of 38-5 this season on the way to a No. 2 state ranking.

"There's not too many times in the past where we've gone in as a decided underdog," Notre Dame coach Mike D'Aloisio said. "We really have nothing to lose. They've destroyed everybody. We'll go in and try to have fun."

Notre Dame can clinch a tie for the division title and a top seed in the Class B playoffs with a victory. If the Crusaders lose, they'll still almost definitely earn one of the four Class B playoff spots if they beat winless Waverly next weekend.

Even if Notre Dame wins Saturday, it's likely the Crusaders would have to get past Forks again to win the sectional title. And beating the Blue Devils just once is enough of a challenge.

"They have a ton of weapons offensively, and defensively they're quick to the ball and have solid people up front that are tough to move," D'Aloisio said.

"I think the big thing is we're going to have to be able to move the ball on them. We can't keep going three and out. If we put some sustained drives together, which we're capable of doing, and keep it close ... you never know what can happen when you get late in the game."

Binghamton Press & Sun-Bulletin, Oct 18th:

Football: Forks readies for big test vs. Elmira ND
Division IV's top spot on the line
BY KEVIN STEVENS
Press & Sun-Bulletin

It has been smooth sailing for Chenango Forks, New York state's second-ranked Class B football team, since a relative tussle of a 20-0 win at Elmira Free Academy on opening weekend.

The Blue Devils (6-0) are bracing for a change in the pattern of one-sided outcomes -- an average score of 43.6 to 5.8 over the last five weeks -- when they play host to unbeaten and 13th-ranked Elmira Notre Dame at 2 p.m. Saturday.

At stake is the top spot in Division IV of the Section 4 Football Conference.

"I think we'll have a little sense of urgency this week," Forks coach Kelsey Green said. "We know Notre Dame's program, the great tradition, and this year's looks like one of their better teams.

"Our attention is not wandering. It's right there.

"We have to be patient. We've been spoiled a little bit with a lot of big plays. But they don't give up big plays. And they become very stubborn as you get close to their goal line."

Forks, winner in 18 of its last 19 games dating to the start of last season, has averaged 366 yards of offense while surrendering 129.3 per game. Three Forks players have rushed for better than 100 yards in a game, most recently Chris Spencer with a 104-yard effort in Saturday's 49-0 win over Seton Catholic Central.
Blue Devils muscle way past Elmira ND
BY KEVIN STEVENS
Press & Sun-Bulletin
CHENANGO FORKS -- Chenango Forks further established itself as Section 4's Class B team to beat Saturday, putting a 27-7 hurting on Elmira Notre Dame that made it seven victories in as many starts.
Physically overpowering the smaller Crusaders at most every turn, Forks limited the visitors to 32 rushing yards and five first downs-- their lone first down of the second half coming with a 76-yard touchdown pass against the Blue Devils' No. 2 defense with 2:15 remaining.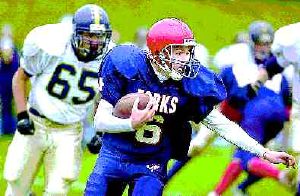 Fullback Kelsey Jenks rushed 28 times for 173 yards, heading a Forks offense that battered Notre Dame for 383 on the ground and passed just once.
"We knew at the beginning of the game we had to hit them hard, send a message first," said Forks center Juan Mendoza. "That's the way you want to start a ballgame. After a while, we just wore them down."
Here's how the message went from Forks, ranked second in the state, to 13th-ranked Notre Dame:
* The Blue Devils' initial possession went 63 yards on eight plays, Jenks' 3-yarder for a score the capper.
* Forks' second drive lasted 16 plays, covered 67 yards and ended with quarterback Chris Spencer sneaking over from the 1.
* Then, late in the second quarter, Jenks hopped in from the 1 -- with nary a defender's glove making contact -- to end an 11-play, 71-yard possession for a 20-0 lead.
Offensively, the primary difference-makers were Mendoza at center, tackles Steve Bronson and Mike Bunker, and guards Jake Frisch and Steve Blackman.
For that crew, Notre Dame had zero answer.
"They're not only big, they're strong and physical," Crusaders coach Mike D'Aloisio said. "Physically, we're outmanned."
As dominant as Forks was with the football, the Blue Devils' defenders were equally outstanding.
Notre Dame's first crack at offense resulted in a three-and-out, its second was halted when Nick Mirabito intercepted a third-and-9 pass near midfield, and its third lost a yard in three plays before a punt.
When Notre Dame (6-1) did get a little something going, using passing gains of 25 and 11 yards to help reach Forks' 10-yard-line in the final minute of the first half, Frisch shot in from his left end position to sack quarterback Colin Sinko on fourth-and-8.
"That was huge," Forks coach Kelsey Green said of the defensive stand. "If they score there, it's a ballgame. I mean, it was still a ballgame, but ... "
Not for long, it wasn't.
Making regular use of Jenks' 229-pound body and will to stay on his feet, Forks took the football to start the second half and went 75 yards on nine plays, with Jenks' third 11-yard rush of the drive good for a touchdown. Tim Batty's PAT kick had Notre Dame in a 27-0 hole.
"I have a lot of respect for our line," said Jenks, part of that offensive front a season ago before joining the backfield cast as a senior. "We had holes that were so big, you could almost jog to the holes and then hit them with a dead sprint. If they maintain their blocks, I know and the other backs know, we'll just keep going."
Down four touchdowns, Notre Dame's first three possessions of the second half were of the three-and-out variety.
"They have (Zach) Tarnowski and Frisch on the outside, Jenks in the middle, with Mendoza, Blackman, all the other guys, and they just dare you to try and run at them," D'Aloisio said. "You can't move them out of there. Every kid is as strong as the next. We knew that would cause us problems (Saturday).
"They force you to throw the ball, but they've got some speedsters in the back (secondary) there, too."
Nine Forks ball carriers had a hand in the team's 383-yard rushing performance, with 14 running plays going for 10 or more yards.
"We did miss a few blocks, so I'll give a B," Mendoza said, when asked to grade the offensive front's performance. "We can do better. We can never be satisfied."
Photo Caption & Credit: Tim Batty of Chenango Forks carries as Dan Eschback of Elmira Notre Dame pursues during Saturday's game. Batty had 35 yards on 5 carries in Forks' victory in a matchup of unbeaten teams in Division IV - Kathryn Deuel, Binghamton Press & Sun-Bulletin


From the Binghamton Press & Sun-Bulletin "5th Quarter" - Tuesday October 22nd
HEAVY LOAD FOR JENKS
Chenango Forks top defensive player was also its most leaned-upon offensive weapon in Saturday's highly impressive 27-7 win over a previously unbeaten Elmira Notre Dame squad.
Kelsey Jenks, nose guard extraordinaire, was called upon to carry the football from his fullback position 28 times, the resulting 173 yards a major part of what went into the Blue Devils' one-sided win.
Asked if offensive overload affects his ability to defend to his standards, Jenks said, "Once in awhile, it warms you up to go on defense. Other times, I go to play defense and I'm a little exerted. But I don't think about being tired.
"I just want to play as much as I can. I want to play so hard that after a game, I can't move."