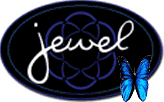 ---
is the email address used to post something to either of the two main versions of this list (See the "Three Versions" link in the index) A post to jewel@ smoe.org may also wind up on the Jewel-news list if deemed newsworthy by the news list moderator. Please note that Jewel is not on the mailing list and you cannot contact Jewel by sending mail to the list.
EveryDay Angels ~ The official nickname for the subscribers of this list as a whole. It was Jewel herself who dubbed the list members with this name. (It obviously comes from the Jewel song "I'm Sensitive"....."we are everyday angels, be careful with me because I'm sensitive and I'd like to stay that way"). The VERY common acronym for this you'll see used on the list is EDAs.
List Trivia: this acronym was first used by Jewel's mother Lenedra when writing to the list two days after JewelStock. We had always just called ourselves Everyday Angels....oddly enough, I myself was the very first to call list members EAs, and it was the very same day Lenedra first used EDAs....."EDAs" stuck, "EAs" flittered away into oblivion :)
Acronyms ~ What do all those abbreviations/acronyms you see on the list mean? Well, find out at the lists' Acronym Page.
Angelfood ~ Is the official term adopted by the EDAs to refer to audio and/or video tapes of Jewel concerts and media appearances distributed and traded by fellow list members . This term is used rather than use the term "bootleg", which most, if not all of these tapes are not (if you take into consideration the true definition of "bootleg"). It is encouraged that EDAs please use this term in posts to the list instead of "boots" or "bootlegs" :-)
Angel Names ~ back in the summer of 1997, a list member inadvertently started a list-trend that caught on with some fellow list members/EDAs. She used a "angel name", sort of like a CB radio handle, to sign off her post. (i.e. one person is "the Thespian Angel", another is "the mystery angel" etc etc.) In the following years since then, it had certainly grown to be a popular item with many EDAs (i.e. having an Angel Name), but has fallen by the wayside of late. If you want one, just choose one that reflects who you are or what you want it to say about yourself.
a night without armor ~ is Jewel's book of poetry that was released on May 19th, 1998. You will commonly see it referred to by the acronym ANWA. It also is available as a CD and a cassette tape.
Big Blue ~ is the pet name given by list members to Jewel's big blue guitar she had been using a lot in the 1995 to 1997 timeframe....which, by the way is a Danny Ferrington model. She had "retired" this guitar, however she had begun using it again during the "Spirit Tour" in 1999. I have no idea if she's still using it now.
Bits And Baubles ~ was a CD released in Target stores in the United States mid-1999. It was a limited production and was pretty much sold out in less than three months. It had 3 musical tracks and 4 poems on it. (or was it 4 songs and 3 poems?). Anyway, if I ever find my copy I'll update this blurb with track list information.
Blue Ribbons ~ Blue ribbons were the official "calling card" of EDAs at Jewel concerts and at EDA gatherings. The idea came about just prior to JewelStock (July 1996) to aid in easily identifying other EDAs. The idea is to adorn your vehicle with a blue ribbon(s), usually from the antennae. Rumor has it that at the EDA gathering at the August 18, 1996 Hampton Beach (NH) show, JewelStock Homecoming Queen Selena Martin had a van hidden under a massive pile of blue ribbons she walked out of :) Note - this ritual of blue-ribbon wearing has pretty much fallen by the wayside and is rarely used anymore.
Chasing Down The Dawn ~ is Jewel's second book, a collection of autobiographical short stories, with a large number of pictures. The book was released on _________. You will commonly see it referred to by the acronym CDTD. It also is available as a CD and a cassette tape.
EDA or EDAs ~ EveryDay Angels: It's what we call ourselves on this list. I've been led to believe that Jewel herself dubbed the list members with this name. Since it was once asked on the list, I had to look it up....it was Jewel's mother Lenedra who first used the acronym EDA when referring to the "EveryDay Angels"
The EDA Cover Tape ~ is a cassette tape that was treed on this list in the spring of 1997 (see tape trees below). It consists of songs written or co-written by Jewel but performed by members of this mailing list and it is GREAT!!! It was recruited, compiled and treed by Eric Montas. There was a second EDA Cover Tape produced, and it was completed, but was never treed
Is that Jewel in Fastball's Song, "The Way"? ~ Yep, that IS a snippet of Jewel's "Foolish Games" in the very beginning of that song. It was noticed by an EDA way back in early April 1998, long before the song hit the charts.
Fritz Creek Store is the title of what was going to be Jewel's 2nd CD release. It was shelved in favor of the "Spirit" CD, which was released on November 17th, 1998.
Lenedra ~ is Jewel's mother and former co-manager....quite often you'll see her referred to as "Nedra", as that's what Jewel calls her....here are some pictures of her ....when she was Jewel's manager she was at a lot of Jewel's shows and appearances, so you may see a lot of pictures of her online at Jewel sites and even videos of some of the older TV appearances.
The Innerchange Coffeehouse ~ was a coffeehouse in San Diego where Jewel spent most of her early career up to and including the point where she was 'discovered'. Many of the songs on the Pieces Of You CD were recorded there. It has since been closed. (there are conflicting reports as to whether or not the building has since been torn down)
J-Card ~ A J-card is that paper thingamabob in a cassette case that lists all the songs and neato stuff that is on a cassette tape. It is so named as it looks like a "J" when viewed from the side. If you are still confused, there's hope, as I expect to have a picture here someday.
Java Joe's ~ is a present San Diego joint where The Rugburns (see 'Steve Poltz' below) and many other rising San Diego musical artists (including Jewel friends Cindy Lee Berryhill, Elizabeth Hummel and Joy Eden Harrison also perform a lot. Jewel shows up there occasionally doing solo gigs and quite often joins The Rugburns in a few numbers. Obviously, it has become a focal point for EDAs in the region to hang out :)
Jeff Wasilko ~ Jeff is the "owner" of smoe.org (the Sun stations that house Jewel@smoe.org and a large number of other mailing lists for musical artists (which you can see the listing of at www.smoe.org/lists)...over 100 at last count). It is through his generosity it exists. Three cheers for Jeff!
Jewel's immediate family consists of:
Lenedra - mother
Atz - father (pronounced like DOTS, minus the D )
Shane - older brother
Atz - younger brother
Nikos - younger half-brother
Vance - older brother who tragically took ill and passed on at the age of 9 months, about a year before Jewel was born.
Ty (Murray) - husband
Contrary to common belief Jewel was NOT born in Homer, Alaska. Honest!! Even though her released poetry book "a night without armor" says Alaska, she was born in Payson Utah on May 23, 1974.

Is her real name Jewel or Juel?? ~ More than a few folk have been confused by a series of photos taken from Jewel's high school yearbook from the Interlochen Academy in Michigan, the performing arts academy where Jewel went to high school.. In it she is at times referred to as Juel Kilcher, obviously raising the question, "What the he**?" It turns out that Jewel was just being a normal teenager and experimenting with various ways to spell her name, that's all. :) Oh yeah, by the way, she has no middle name. (although her mother's middle name is Jewel, by the way)

Jewel's height ~ Seems to be a commonly asked question. She's five foot-five & three-quarter inches tall. (in case you were wondering "uhmmmmm Mike, how do you know that?", this info was relayed directly to the list in 1996 by a contact we had with Jewel's management :-)

Jewel played "the witch's Dorothy"? ~ Yes. Jewel played Dorothy Gale of Kansas in a star studded stage production of "The Wizard Of Oz" in New York City in the fall of 1995. It can be seen occasionally on VH1....they've been known to air it around the winter holidays. There IS a CD available of it. It's called "The Wizard Of Oz In Concert - Dreams Come True" and is put out by Rhino Records. The stock number is R2 72405. There also is a video of it being re-circulated after a year or two of being out of print. It is distributed by Turner Home Entertainment Its' catalog number is 3312Vand its' ISBN# is 0-7806-1309-0.
JeweLink ~ was once the official Jewel announcement mailing list, with well over 30,000 subscribers worldwide. It was an announcement-only list with all posts coming directly from Jewel's management team.
Jewel Look-alikes ~ Yep, more than a few times it's been noted on the list that Joey Lauren Adams, Meryl Streep and Renee Zellweger all bear a resemblance to Jewel in some way o another. In fact, on an MTV Awards show in 1997, Jewel and Renee discussed that in a round-about way as Renee was introducing her before Jewel performed.
Jewel's USA Postal Address ~ As listed on her Pieces Of You CD, an address to write Jewel is:
Jewel Kilcher
PO Box 33494
San Diego CA, USA 92163-3494
I have no idea at this time if this is still a valid mailing address.

was a pair of concerts (one free, one minimal charge) that Jewel gave as a "thank you" gift for the members of this mailing list on July 18th & 19th of 1996. They were held at the Bearsville Theatre in Bearsville NY while she was recording a CD at the Bearsville Studios (Bearsville is about one mile from downtown Woodstock NY...yep, THAT Woodstock!!). Since then, the list has had an annual EDA campout in mid-July at a campsite near Woodstock. The campout has attracted anywhere's from 20 to 50 list members and guests each time. A picture of the JewelStock organizing crew (all EDAs) is here.
Living Room Tour (LRTs) ~ while none have occurred since 2000, they were quite prevalent in 1997 & 1998. More info is available right here
The Great Jewel Lollipop Debate ~ was half of the "does Jewel smoke?" debate that surfaced on this list in the spring of 1996 (and occasionally re-appears in various forums) due to some infamous pictures from the early days in Jewel's career that show her with a white object dangling out of her mouth, which turns out to be a grape lollipop. More info, plus the pictures, can be seen just by scrolling down a little bit more to the "smoking cigarettes" blurb.
Mr BB ~ is a New England sound engineer primarily responsible for Jewel's recording archive management. MrBB also relays news, information and messages from Jewel and her management, via Jewel's official website, jeweljk.com. A member of this list before becoming employed by Jewel, MrBB occasionally enjoys contributing to EDA list discussion & information from him can be relied on to be as accurate as possible. Please note however that he rarely posts directly to the list anymore as his duties relating to his job keep him quite busy and he rarely has the time to read this list anymore.
In the past, MrBB had been helpful & supportive during many EDA related projects, including the Living Room Tours & producing authorized high-quality tapes that have been freely distributed to the EDAs via list organized tape trees. However, he will not relay personal messages or gifts to Jewel and cannot reply to personal requests. Please respect his wishes on this subject.
NashBash ~ was a "similar to JewelStock" private live concert/recording session that Jewel gave for the EDAs on Sunday August 5th 2001 in Nashville Tennessee at the Porter Playroom, which is a quite small intimate club. Unlike JewelStock, tapes of the show are not going to be made available, and no one in the audience recorded it. We'll just have to wait and see what the J-team's intent with the recordings of this is although there has been unconfirmed speculation that at least one of the live tracks on Jewel 2001 CD This Way came from that session.
Nedra ~ A common nickname for Jewel's mother and former co-manager Lenedra Carroll
Old Yeller ~ is the pet name given to Jewels' other main guitar in the 1995-1998 timeframe, which is a Taylor. I've been told it's a 912-C. This also may be old news (this was written in early '97) , as I don't know if she even uses this guitar anymore. (some more list trivia - list member James Judd first called the guitar "Old Yeller"....ain't we just full of inventive folk? :-)
Phyllis Barnaby Finally Gets A Bra ~ a VERY hard to find Jewel collectable. It's a four track promotional (promo) CD (PRCD 6416) under the actual title of You Were Meant For Me put out by Atlantic Records in November of 1995. Want more info? Well, ya got it right here.
Pieces of You - double album, vinyl edition ~ in June 1997, a 12" vinyl edition of Pieces Of You was released. It's a 2 album set, with 5 bonus tracks that were previously 'released' on Save The Linoleum and Phyllis Barnaby Finally Gets A Bra. The five bonus tracks are all on Side D and are:
Emily (3:15)
Rocker Girl (1:44)
Everything Breaks (3:21) a.k.a. Everything Breaks Sometimes
Cold Song (1:03)
Angel Needs A Ride (4:17)
"Ride With The Devil" ~ is the name of Jewel's initial movie filmed from March thru July 1998. For more info, see "To Live On", which was the original title. On the list, you will commonly see the title abbreviated as RWTD. The official web page for the film is no longer in service. The film was released to theaters in late 1999 is available for purchase in video and DVD format. (and of course rental).

Save The Linoleum ~ also a VERY hard to find Jewel collectable. It's a seven track promotional CD (PRCD 5999-2) put out by Atlantic Records in February of 1995. Want more info? Well, ya got it right here too! :)

Shiva Diva Doo Wop ~ was a tape that Jewel used to sell at her shows long before Pieces Of You was released. It had four tracks....(as they appeared on the insert) - 1000 Miles Away, She Cries, Painters, My Own Private God's Gift To Women. You will have almost as good a chance of walking naked on the moon as you would finding an original copy of this tape. It's probably the rarest original released Jewel recording out there.....the Holy Grail of Jewel recordings, if you will.

Smoking cigarettes is one thing Jewel does not do. There is a notorious photograph on some web pages that appear to show Jewel with a cigarette dangling from her mouth. It's really a grape lollipop. A 'sister' photo taken within seconds of the infamous one clearly shows that it is indeed a lollipop (it is not known if it was a Tootsie Pop, so please don't ask ;) Both photos are submitted here as Exhibit A .

On a related note, at JewelStock in July 1996 Jewel related that (at that time) her favorite discussion that had occurred on the mailing list was the "Does Jewel smoke?" issue. She said she does not smoke and then blurted out, "It's a lollipop!!!". That's an "end of discussion" if I've ever heard one. Please note, Jewel does not read the list, she was told of the smoking discussion by Hiranya, who at the time was the list's main contact with Jewel and her management. (although she does not smoke, she also related on the first night of JewelStock that her first cigar smoking episode had occurred the night before....she did not enjoy it..."I got so sick......I was sooo sick" :)

What Soundtrack CDs/films has Jewel been included on? ~ the table below has a listing of this information, although since I have rarely updated it since 1998, so there are obviously a lot more.
Film
Song
Jewel Original or Cover?
In film?
On soundtrack CD?
Clueless
All By Myself
Cover (original by Eric Carmen, late 1970s)
Yes
Sadly...no
The Wizard Of Oz In Concert: Dreams Come True
many Wizard of Oz songs
Covers
Yes
Yes
I Shot Andy Warhol
Sunshine Superman
Cover (original by Donovan, late 1960s)
Yes
Yes
The Crossing Guard
Emily
Original
Yes
No soundtrack CD was made. *
Phenomenon
Have A Little Faith In Me
Cover (original by John Hiatt)
Yes
Yes
The Craft
Under The Water
Original
Yes
Yes
Dead Man Walking
Not sure which song. Anyone know?
Original
Yes
No
Batman & Robin
Foolish Games
Original
No
Yes
The Other Sister
I'm Sensitive
Original
Yes
No
Anywhere But Here
Not sure which song. Anyone know?
Original
Yes
No
Ride With The Devil
What's Simple Is True
Original
Yes
Yes
Return To Me
Angel Standing By
Original
Yes
do not know
* "Emily" is on the double vinyl version of Pieces Of You and some special extended foreign versions of POY
Spirit - double album, vinyl edition ~ in conjunction with the CD's release, a 12" vinyl edition of Spirit was released. It does not have any extra tracks on it like the Pieces Of You double-vinyl album did, it just has the 14 tracks on the CD spread out on the four sides of the two albums.
Steve Poltz ~ Steve co-wrote You Were Meant For Me with Jewel and he's the dude in the newer video of You Were Meant For Me with Jewel. (There is an older version video of YWMFM shown rarely) Steve was also the lead singer of the now defunct San Diego based rock group The Rugburns, whom Jewel had open for her on her "Tiny Lights Tour" in February thru April of 1997 and at the Common Ground Benefit Concert in September 1997. Yes, Steve and Jewel used to "be an item.". At times through the years Steve was playing guitar with Jewel on her television appearances.
Tape Trees ~ A tape tree on this list is a system utilized to distribute hard to get music of Jewel, be it live recordings or cuts from promotional releases and/or interviews. The basic structure for a tape tree that it is a co-operative effort among many subscribers to this list. It is to spread the music of Jewel, at no cost, other than to supply your own blank tapes and pay for the return postage and mailer. It is done in the spirit that if you can, just maybe you can return the favor someday. If not, so be it. More info is available on the tape tree page. (please note - tape trees (and CD trees) do not seem to be run on the Jewel list much anymore, mostly due to the size of the list. heck, the last Jewel tape tree on this list was in February of 1997. Now-a-days basic ol' tape or CDR trading seems to be the most prevalent method to exchange/distribute recent music of Jewel)
"To Live On" (a.k.a. "Woe To Live On", the title of the book from whence it came) was the name of the motion picture that Jewel was filming near Kansas City Missouri from March to July 1998. (It has since been given the rather typically Hollywood-ish name of "Ride With The Devil"...oh well) It's a Civil War film where Jewel will play the love interest of two soldiers. The director is Ang Lee. The film was released in late 1999.
There's a video on Jewel's Joy: A Holiday Collection CD? ~ Yessireebob, there is! Just log yourself online, pop the CD into your computer's CD drive and easy to follow instructions will guide you to watch a video of Jewel recording "Gloria".
---
..Links to pages about EDAs & EDA gatherings:



(note, most of these pages are old, dated, and just collecting dust, but still have some worthwhile information)
---
....Some EDA Group Pictures:
[Warning!!! Some pictures of me with Jewel & Patty Griffin]
---